The Invaders is the second book in The Brotherband Chronicles and just as good, if not better, than The Outcasts.
Hal and his friends have lost Skandia's most priceless treasure, the Andomal, to a ruthless pirate named Zavac.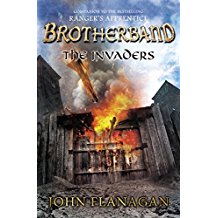 Now they face rejection for the rest of their lives, unless they can return it.
Quietly, Hal and his friends sneak away before a raging storm makes it impossible for them to escape.
After being at sea for days, they finally find a cove and set up camp.
As they wait for the storm to pass, Thorn continues to train the boys for battle.
Meanwhile, Hal and Ingvar work on a mysterious machine.
When the mysterious machine is finished Hal and his friends begin their search for the evil pirate, Zavac.
As they are sailing they spot a rowboat drifting on the water.
In the distance, they see a someone waving toward them.
When their boats are side by side they are stunned to find that the figure is a beautiful girl named, Lydia.
When asked why she was out so far on the sea in a rowboat, she tells them that the city of Limmat, where she lives, has been attacked by pirates.
They go back to the island away from the pirates on the hope of seeing who they are.
On further inspection, the Herons find out that the pirate is none other than Zavac and his merciless crew.
On the way back to the ship Hal, Stig and Lydia stumble across some escaped villagers who are trying to set up an army to fight Zavac.
The Herons attempt to rid the town of its invaders but even with the villagers and Lydia's help they are still badly outnumbered.
The Invaders is a remarkable story full of adventure and excitement.
Book Details
Author: John Flanagan
Publisher: Philomel Books
Series: The Brotherband Chronicles, book 2
Name: The Invaders
Age Range: 12 and up
Pages: 464
Media Type: Kindle book, Audio book, Paperback
ISBN: 978-1-101-57227-6
What to Expect: Adventure, Excitement, Danger, Fiction and Fantasy,
My Favorite Character:
One of my favorite characters is probably Lydia.
This is the first book that she is in. I really like how there is a girl in the story and it's not just boys.
I also like how she has a really cool weapon and can take care of herself.
She is pretty funny at times and completely unaware of her own beauty. She adds a new sphere of things to the series.
What I liked about The Invaders:
I like The Invaders because it is full of excitement and humor.
For example, one of my favorite parts is when Thorn is training the boys.
He is forever full of amusing sarcastic comments.
The author did a really good job in making the characters realistic.
I like how they're not these perfect saints who can do anything.
What I didn't like about The Invaders: 
In The Invaders they use their own curse language based on their fantasy gods.
It is not vile but simply added to make the reader laugh. Which personally, I feel is not the greatest but does add a good amount of humor.
A list of the BrotherBand Chronicles:
Book 1: The Outcasts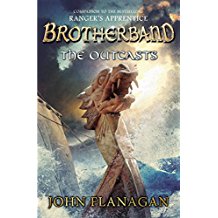 Book 2: The Invaders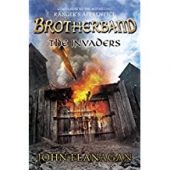 Book 3: The Hunters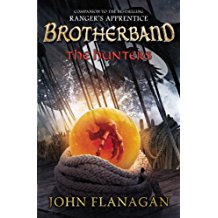 Book 6: The Ghostfaces