The King's Equal is a thrilling tale about a poor farmer's daughter.
She must leave her father in order to save herself and the few possessions they have left before the greedy prince's agents take them away.
She goes to live in the mountains where she meets a majestic wolf who becomes her friend.
But at the same time, the arrogant Prince of all the Kingdom realizes that he can not be truly happy until he has his father's crown.
He can only have the crown when he marries a woman who is his equal in everything.
The King's Equal is a wonderful book that will keep you interested until the very end.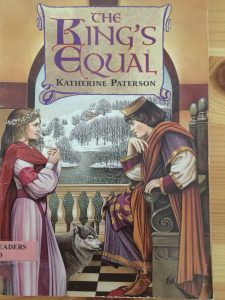 Book Details
Author: Katherine Paterson
Publisher: HarperCollins
Pages: 56 plus 6 pictures
Media Type: Paperback, Audio
Age Range: 7 to 11
ISBN: 0-06-442090-6
What to expect: This book has a bigger print which makes it pretty easy for young readers to read.
It has elements of love and adventure.
This book also teaches that money cannot buy everything. This book is absolutely one of my favorites.
Favorite Character: My favorite characters are Rosamund and the Wolf.
I like how the wolf is Rosamunds friend and basically her protective  guardian.
Rosamund, herself, is very kind and compassionate and full of wisdom.
What I Liked about The King's Equal:
When I first read this book, I was completely enthralled with it.
The King's Equal has a kind of a folk tale feel to it with an underlying moral theme.
This book also has fantastic pictures. That are quite fun to look at.
It has a bit of humor. But not a ton.
It mainly focuses on Rosamund and her wise wolf friend as well as the prince.
What I didn't Like About The King's Equal: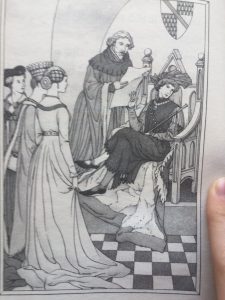 When I first read this I loved it. I love books with a medieval setting.
But the older I get, the less enthralling it feels to me. It is definitely a book best suited for younger children.
Other Books You Might Enjoy: