When my brother first told me about the BrotherBand Chronicles (available here on Amazon.com), I just had to read them.
Since then, I can barely put them down.
Once I start reading I am almost instantly transported into the world of the Heron, and its' crew.
It is full of adventure and humor. John Flanagan certainly knew what he was doing when he wrote the BrotherBand Chronicles.
Book Details
Written By: John Flanagan
Series: Book 6 of the BrotherBand Chronicles
Age range: 12 and up
Publisher: Philomel Books
Media Type: Kindle Book, Paperback, Hardcover and Audio book
Pages: 400
ISBN: 9780698174597
What to expect: Humor, Fighting Vikings, Sailing Boats, Romance,
Introduction:
Hal, Skirl of the Heron, is returning home with his crew only to be caught in a life threatening storm.
(Okay, if you're like my Mom, here's a tidbit.
A Skirl is a captain of a ship and the Heron is, you guessed it, a ship.)
The storm takes them further away from home than ever before.
They eventually find a harbor were they are safe for the moment. But are they the only ones there?
Once outcasts and now honored warriors, Hal and his friends must find a way home.
But while they are there a series of unexpected events continue to delay them.
Will Hal and his friends ever get back home?
THE GHOSTFACES, written by John Flanagan is book six in a series of thrilling adventures that you just do not want to put down.
If you are looking for book one or any of the others look down at the bottom for a list of the BrotherBand Chronicles in order.
What I liked about BrotherBand (The GhostFaces)
I like the BrotherBand Chronicles series because it's full of excitement and humor.
The BrotherBand series is not only full of adventure and daring acts of bravery, but the author also has them looking out for each other.
As if they really were brothers.
I like how each character is different.
Each one of them brings their different talents together to help one another.
One of my favorite characters is Lydia. I like how she's funny, and humble about her own beauty and fighting skills.
The parts where she is teasing Thorn are full of humor. Her sympathy when one of  her crew mates is hurt is sweet.
And then there's Hal, captain of his ship, the Heron.
Once an outcast and now respected as one of the finest helmsman there is.
He is definitely one of my favorite characters.
As he sails across the Stormwhite Sea he leads his crew with a boldness that few ever have.
With him is his second mate, Stig, who with help from his friends and BrotherBand training mastered his once fiery temper.
Not only is he first mate aboard the Heron, but he is also one of the best fighters on board.
And with Stig is Thorn, guiding Hal whenever he needs it.
Thorn is a shabby sailor who is tough and full of sarcasm but as soft as a teddy bear when it comes to the crew of the Heron.
Other BrotherBand Chronicles Books you might like: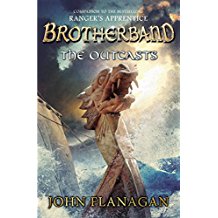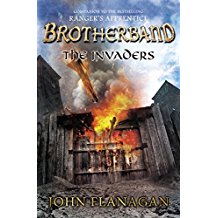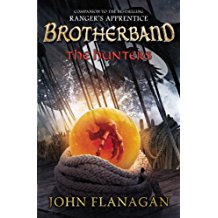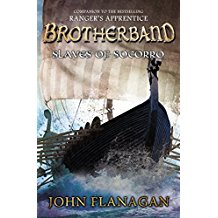 Book 6 : The Ghost FacesBOOK 7: The Caldera