In this thrilling adventure, Scorpion Mountain, Hal and the crew finally get to meet King Duncan of Araluen.
When they get there, King Duncan sends them on a special mission of great importance.
A man named Ikbaal has payed the Shurmel of a tribe in Arrida to put a Tolfa on King Duncan's daughter, Cassandra.
(For those who don't know what a Tolfa is, it is basically when this certain tribe hires themselves out as assasins to kill someone.
It is based on their belief that it is what their goddess wants them to do.)
With the fear that any day his daughter might get assassinated, King Duncan sends Hal and his crew, along with Gilan, to destroy the tolfa by any means possible.
But at the same time, Hal is astonished to find that Ingvar plans to leave the Brotherband, for good.
Can Hal somehow manage to change Ingvar's mind?
Can the Heron Brotherband and Gilan stop the Tolfa and save King Duncan's daughter?
In this amazing adventure of the Herons you will find danger, excitement and much more.
Enter into the Heron's world in this fifth adventure, Scorpion Mountain, and be prepared to be amazed.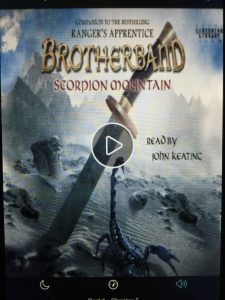 Book Details
Author: John Flanagan
Publisher: Philomel Books
Series: BrotherBand Chronicles book 5
Name: The Scorpion Mountain
Age Range: 11 and up
Media Type: Kindle, Audiobook, Paperback, Hardcover;
ISBN-10; 0399163565
ISBN-13; 978-0399163562
What to Expect: Action, Adventure, Danger;
Character of the Day;
Of all the characters in the Brotherband Chronicles, Ulf and Wulf are the ones that bring a lot of the humor into the story.
Ulf and Wulf are constantly arguing with each other over the most crazy and ridiculous things ever.
For example, Ulf might say something like, Wulf is ugly as a dead deer and then Wulf will say something equivalent to that about Ulf.
They are identical twins. In fact, they are so alike that no one can ever tell them apart.
They often use this to their own advantage.
What adds even more to the humor is when Hal will tell Ingvar to throw one of them overboard.
John Flanagan did a good job adding humor in the right places in his books.
In Scorpion Mountain, Wulf and Ulf are shown a little bit more.
Well, at least, it seems to me that they are.
It is kind of ironic how they will argue with each other but the minute someone threatens one of them the other will be there defending him in a heartbeat.
Another character who is in Scorpion Mountain is one of the legendary rangers of Araluen named, Gilan.
Gilan was in the previous book, Slaves of Socorro, as well.
What I liked about Scorpion Mountain;
I like Scorpion Mountain because it is full of action and adventure. And it also has a good amount of humor.
One of my favorite parts in Scorpion Mountain is when Hal is working on one of his new inventions while the others go to an abandoned arena. Except for Jesper that is.
That particular part definitely made me smile.
I also like that Gilan is in Slaves of Socorro and in Scorpion Mountain.
It definitely gives an added perspective to them.
What I didn't like about Scorpion Mountain;
In Scorpion Mountain there is some fighting and bloodshed in it.
Which to be honest, I'm not that crazy about.
In the book, there will be sword strokes called out or maybe it will say that someone fell down dead with a shocked look on their face, but it isn't gory.
So there is definitely some of that in there. Though a good bit of the book they aren't fighting.
The Brotherband Chronicles in order;
Book 1: The Outcasts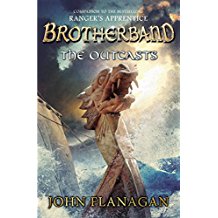 Book 2: The Invaders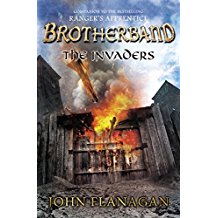 Book 3: The Hunters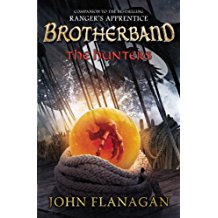 Book 4: Slaves of Socorro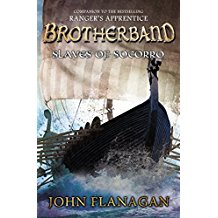 Book 5: Scorpion Mountain

Book 6: The Ghost Faces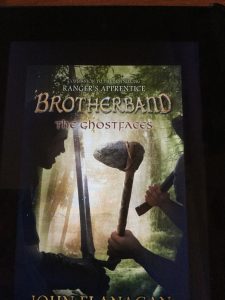 Book 7: The Caldera