Son of the Black Stallion is another thrilling tale in the Black Stallion series.
In this book Abu ben Ishak keeps his promise to Alec in giving him the first colt of the Black.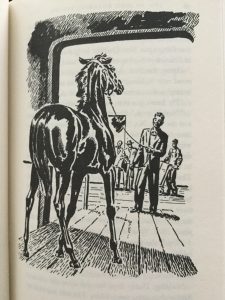 When Satan arrives, Alec is thrilled to have a horse for his very own again.
Just like his father, Satan is wild and filled with fire.
But he also has an inner raging to kill, that very quickly puts Alec's love  and determination to the test.
Together with Henry Daily, Alec does his best to earn the love of the majestic son of the Black.
But Satan is determined to fight them. Will Alec be able to earn his trust and train him in time for the Hopeful?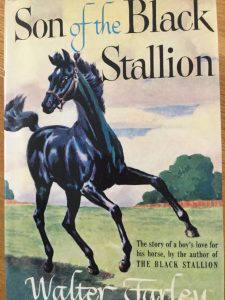 Book Details
Author: Walter Farley
Publisher: Yearling; Anniversary edition,(August 20, 1991) on Amazon
Age Range: 10-13
Series:  Book 3 in The Black Stallion series
Media Type: Paperback and Kindle
ISBN-10: 9780679813446
ISBN-13: 978-0679813446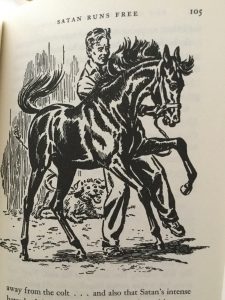 Character of the Day: 
I think that the character of this one should be Satan. I mean, after all, the book is about him.                                 For most of this book, Satan is this wild fiery creature that can't be controlled.
Until, that is, Henry breaks him and finally shows him who's the boss.
He then ends up liking Alec and obeying him. And besides, inheriting his father's looks, he also inherits his speed as well.
Towards the end of the book, he runs in some major races. And you'll never guess who shows up at one of them!
What I like about the Son of the Black Stallion:
I think that it was nice that this book was about the Black Stallion's son.
It was also cool how the author made them so similar. Although he did a good job on making them having differences too.
Like, for instance, Satan is more burlier and not quite as beautiful as the Black.
The author has Satan as a close match when it comes to speed to the Black, but the Black is still the better horse.
I also liked how in the book Alec never gave up on his horse.
He still tried to win his love and be kind to him even after Satan had showed how much he hated him.
The part that Henry played was interesting to read as well.
Even though Alec wouldn't listen to his advice about getting rid of Satan, he still tried to help win Satan's heart and obedience for Alec.
He continued to be a good friend even when he didn't agree with all of Alec's ideas.
This book is filled with excitement and is definitely a good read.
What I didn't like about the Son of the Black Stallion: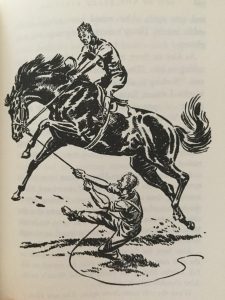 For me I didn't really like the idea so much that Alec would have a new horse to love and replace the Black, so to speak.
At this point in the series, you are kind of wondering if he is ever going to see the Black again or will Satan ever love him as the Black did.
Of course, if you keep on reading, everything turns out okay and in the next book he does see the Black again.
Although, I won't say how he does.
Other books you might like:
Book 1: The Black Stallion
Book 2: The Black Stallion Returns
Book 4: The Island Stallion